It's possible that some of you studied Period 9 and know what to expect. Most of you are aware that we are moving towards Period 9. However, you might not know the megatrends, hidden job opportunities, or what occurs during this transitional era. Whether we like it or not, Period 9 is the new world with new rules that we must follow. As a result, you must find ways to better match with Period 9 energies if you want t,o succeed and advance in your professional, business, or personal goals.
Both global and personal changes will occur as we transition from Period 8 to 9. Since each period lasts for 20 years, there will be various events happening that will drastically alter our lives. Meanwhile, you can read about Period 9 here before we continue. Therefore, the three-step framework provided below can help you navigate Period 9 and take advantage of the chances that are there for the taking.
Recognizing the "Big Shifts" of Period 9
Knowing when and how it will affect you so that you can increase your capacity for anticipation and mental preparation
Determine the activities you need to align to based on your Bazi Chart
---
The "Big Shifts" from Period 8 to Period 9
We may anticipate things in Period 9 to move quite quickly because it belongs to the fire element. Therefore, it applies to jobs, companies, technology, and government regulations. For example, you may already realize how quickly COVID limits imposed by the government can change by opening up and then closing down again. Since things change quickly, everyone must learn to be flexible and adopt new ways of working; thus here is where innovation comes into play.
Adult working women pursuing progress may also be empowered leaders and business owners. Women will wear "many hats" while juggling different roles in their families, businesses, and careers. Additionally, most people find their true calling in life. Some would start their side businesses with the rise of the gig economy. Services include food delivery, shared transportation, etc.
Unfortunately, it is a time of aggression, and tensions between countries are already beginning to rise. Additionally, those with quick tempers may be affected since everyone will be irritable. They may make rash judgments or actions that they will regret later.
In addition, we can anticipate diseases of the eyes, the heart, and the mind in terms of health. However, this may lead to medical discoveries with technological breakthroughs. Because Period 9 is also about mental clarity, businesses and governments focus more on stress management, mental health, and other topics like dementia, depression, and so forth.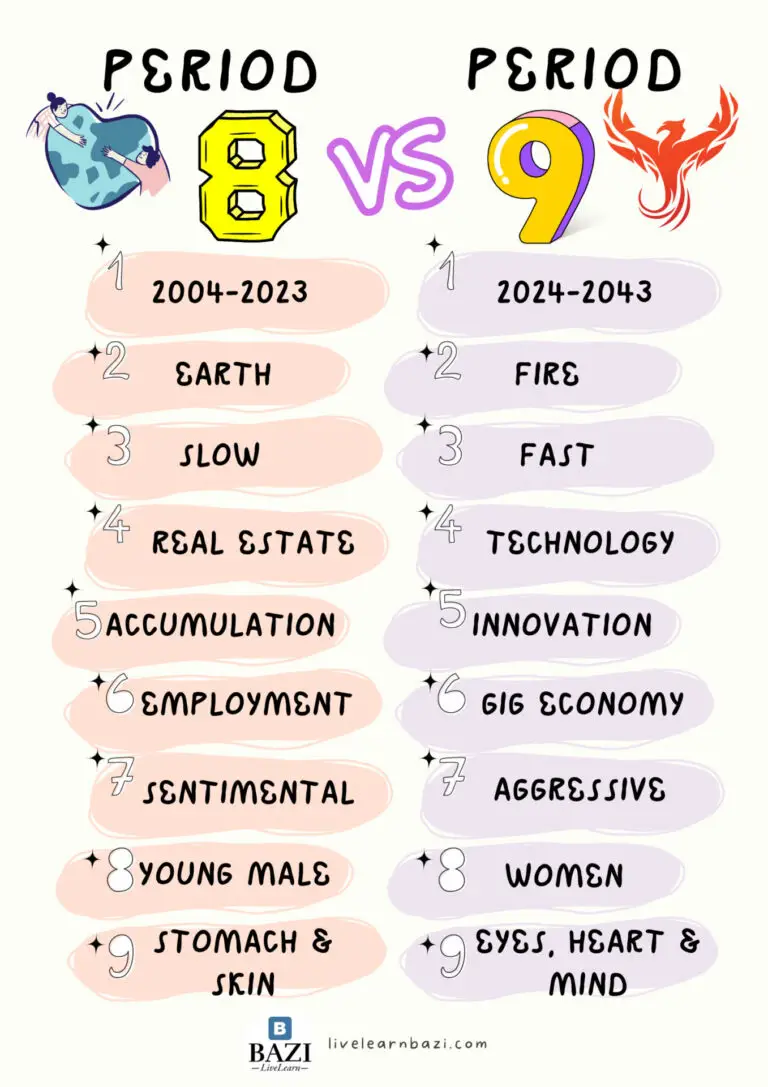 The Megatrends of Periods 8 and 9
In Periods 8 and 9, these were different times. There are distinct rules and unique ways of working. As we move into 2024, we will observe more of the Period 9 energies. However, some of the trends in 2017 were already present due to the energy of the Early Heaven. Therefore, we should be aware of the significant trends or "New World Order" listed below because they concern us all.
Nevertheless, you will want to be mindful of events that affect you or your society. These are exceptional events that cause changes to your circumstances or position. However, events serve as catalysts in changing your status quo. When you experience harsh experiences and make difficult decisions, eventually, you will be forced to pivot to the energies of Period 9.
–
Period 8
Period 9
Year
2004 – 2023
2024 – 2043
Element
Earth 🌍
Fire 🔥
Nature
Slow 🚶
Fast 🏃‍♀️
Industry
Real Estate 🏡
Technology 📱
Wealth
Accumulation &
Building Businesses 👨‍🏭
Flexibility &
Innovation 👩🏻‍💻
Operations
Long Employment
& Training 👨‍🔧
Gig Economy &
Self Discovery 🧏
Beliefs
Sentimental &
Peaceful 💝
Aggressive 🤬
Empowerment
Young Male 👱
Matured Female 👩‍🦳
Health Issues
Digestive System
& Skin 🤲🏻
Eyes 👁,
Heart ❤️,
& Mind 🧠
Megatrends of Period 8 and Period 9
---
The Major Events in the Transition
If you read the post about Early Heaven and Late Heaven, you might already know that the transitions commenced in 2017. The main world events and changes will occur in the following three stages. Firstly, the Early Heaven shift in 2017. Secondly, the middle of the period transition in 2020 comes next. And finally, the Late Heaven final push in 2024. It is important to note that these transitions have a range of ±1 year. Thus, the list of significant activities that took place is provided below.
In 2017, we saw an increase in the number of fire-related incidents, such as wildfires. The women's march was to protest sexual prejudice. Furthermore, these protests were about people finding themselves and expressing their beliefs. Finally, we witnessed several confrontational incidents, including tensions between the US, China, and North Korea. Mass shootings and an uptick in terrorist activity also occurred.
We suffered the deadliest pandemic with COVID-19 and the lockdowns during the shifts in 2020. However, online learning, remote working, and e-shopping have become standard for everyone due to movement restrictions imposed by governments. Additionally, there were violent protests in the US and Hong Kong. We saw the US sending one of its drones into Iran and killing one of its generals. Lastly, Kamala Harris was elected as US vice president, demonstrating the rise of women's power.
Even though 2024 is still a ways off, many things are already happening. Conflicts between Russia and Ukraine are one example. A lot of things are bubbling as a result of the high prices and inflation. On the other hand, organizations and individuals can facilitate the provision of goods and services thanks to blockchain technology and the metaverse. However, we have also seen several instances of burned-out employees abandoning their jobs or resigning after realizing the importance of work-life balance.
---
Potential Industries and Hidden Job Opportunities in Period 9
What potential fields and untapped job markets are there for you to pursue? Anything that uses technology, whether it is fintech or agritech, will be beneficial for Period 9. Therefore, you can consider the list of industries as follows:
Artificial intelligence (AI)
Augmented reality (AR)
Connectivity & coverage
Cyber security
Drone technology
Data cloud storage
Electric vehicles
Facial recognition
Holograms
Internet of things
Metaverse
Payment gateways
Robotics
Space travel
Video conferencing
Virtual reality (VR)
The fire element is the foundation of Period 9. It also has to do with pleasing our eyes. When someone describes something as being aesthetically pleasing, they are referring to its visual presentation or how it appears. Consequently, the beauty sector will experience a period of change and growth. Thus, you can consider the list of industries as follows:
Aesthetics
Cosmetics
Clothing (focusing on women's business attire)
Glasses & Lenses
Hairdressing
Plastic surgery
Manicure & Pedicure
Skincare
In Period 9, as moms gain more influence, they will have less time to care for their children or homes. When women are empowered, things like having a higher position within a corporation, becoming a leader in their community, or starting their own business come to mind. Women can afford the convenience of caring for their children while pursuing their careers as they make more money. Consequently, the following sectors will benefit from this shift in women's empowerment:
Childcare & daycare
Child Enrichment
Children products
Domestic helpers
Home cleaning services
Maternity F&B
Maternity services
Following post-COVID, many countries are exploring ways to become independent and grow food using technology. Countries have stopped exporting food such as wheat, chickens, palm oil, etc. Inflation and food shortages brought on by the most recent conflicts between Russia and Ukraine are also to blame for this situation. We have also seen that recent poor weather and supply chain disruptions impact food yields. Consequently, the agriculture sector will profit in Period 9:
Agri-tech
Hydroponics
Indoor farming
Vertical farming
Sustainable farming
We can see that most individuals can learn from the comfort of their homes as technology becomes the foundation of every industry. They can participate in online workshops or seminars or even influence others by posting images or videos on social media platforms. There will not be any need for a physical building to attend classes. Additionally, the growing gig economy in Period 9 has made it simpler for others to purchase information. The following is a list of some of the sectors we can take into account:
Edu-tech
Freelance teachers / Trainers
Freelance speakers
Influencers
Thought leaders
Online courses
Online workshops
Virtual education institutes
The medical sector that deals with the eyes, heart, and mind will also gain from the arrival of Period 9. Additionally, governments are already boosting their spending on research into the mental health of their constituents. But there were many news reports about persons who committed suicide during the COVID lockdowns due to debt, social isolation, or marital problems that led to divorce. Therefore, there is a great need to improve everyone's mental health.
Eye treatment and surgery
Optometry
Refractive surgery
Cardiology
Heart treatment and surgery
Counseling
Eldercare
Mental health and studies
Psychologists
Unfortunately, we might anticipate a surge in divorce cases in Period 9 due to the pressures of societal change. Women now possess the same power as their husbands at home due to their empowerment. As divorce rates rise, more couples are divorcing and getting remarried. Additional liability problems resulting from smart tech, intellectual property, environmental compliance, and other topics are examples of other expanding markets in the legal sector.
Divorce lawyers
Family law
Marriage counselors
Global compliance
IP lawyers
The digital & banking economy, when it doesn't require a third party or organization to handle your payments, is one of the benefits of Period 9's self-do-it-yourself initiatives. Additionally, the development of technology will lead to an improvement in payment gateways in the banking sector. Thus, the instances listed below are a few:
Automated kiosks
Cryptocurrencies
Digital currencies
Mobile banking
Payment gateways
People who practice religion or study the spiritual aspects will benefit, as Period 9 represents the fire element. As a result, it may be a time when you are self-awaken and learn more about who you are. You can become a better person and raise your expectations if you can do this. Therefore, everyone will benefit from improving themselves.
Astrology
Metaphysics
Motivational speakers
NLP
Religious studies
Spiritual learning
Self-improvement
Urban wellness
---
The Six Required Skill Sets for Period 9
It is important to note that the industries mentioned above represent a general framework that will experience increased prosperity in Period 9. There are numerous sectors and job roles available. But if none of them fit you, then you must start to make adjustments to your job role. For the next twenty years, you should be proficient in these six main activities or skill sets.
1. Transferrable Skills
You'll need to have some transferable skills that will let you work in any sector. The term "transferable skills" refers to talents that apply across several sectors and industries and are not necessarily job or industry-specific. For instance, if you work in sales and can no longer sell real estate, you may still sell IT solutions because of your sales expertise.
An individual who possesses these abilities is more employable and has an advantage over others who do not. As a result, you will be able to enter any newly developing industry. Since Period 9 is all about flexibility, you must also be adaptable in your choice of employers and products to sell.
2. Teamwork & Collaboration
Period 9 is also a moment for cooperation and teamwork. Cooperation is an important skill to have in the workplace. You will want to work collaboratively with your coworkers, team members, and even your supervisor. In addition, you must also work well with clients and customers when running a business. Consequently, you want to work with others in your career or side businesses.
It will take a decade to master if you plan to start things the slow and conventional way by starting a business and attempting to build it on your own. Therefore, it will be simple to quickly expand the firm, go public, and exit the company when you collaborate with people and investors at different levels. The more options you create for cooperation, the more opportunities you will have for success.
3. Commanding Attention
You will be more successful the more people pay attention to you. As a presenter, an influencer, or a thought leader, you can seize the interest of others. Additionally, if you are a famous person like an artist, entertainer, or singer, you will gain a lot from being able to attract people's attention. You can make sure that your celebrity efforts are spread out and not concentrated in one region is a sensible choice.
However, if you work in marketing and find it difficult to draw attention, you should seek out information and learn about it. The more you know about your industry, the more likely you are to create an effective campaign. Therefore, you can start by looking at what successful campaigns have done in the past. In addition, you can also look for examples of what other companies are doing in your industry. The new currency in Period 9 will be to command the attention of others.
4. Work Flexibility
Flexibility is the key to a healthy work-life balance. Regardless of your job title or industry, flexibility at work will be crucial for everyone. You can't expect consistency in any aspect of life, so why should it be different at work? There will be employment changes, market factors that compel you to quit, or personnel reductions at the company. Many businesses have to lay off employees due to recent economic problems and COVID.
5. Entrepreneurship
Many workers will realize that they should no longer become bound by the politics and policies of their employers and should instead leave working for them during this awakening phase. As a result, most individuals will begin to take the initiative and pursue their passions.
They will be able to make more money and have more freedom by becoming freelancers or entrepreneurs. It is because there is a growing trend in the workforce where people are becoming freelancers. They can make more money, have more freedom, and work on their terms. There will be a lot of entrepreneurs and freelancers, especially women, as they gain greater authority in Period 9.
6. Maintaining the Human Touch
If all else fails, you should engage yourself in a position requiring human interaction. The need for interpersonal interaction is growing in the world in which we live. It's not just because of the technological environment in which we live but also because human empathy is required. It is why it might be time to reconsider your career if you feel like you're having trouble finding your place in an advanced society.
F2F consultations, counselors, customer service representatives, chief happiness officers, etc. are a few instances of this kind of work. Robots won't be able to replace you in the next 20 years if you can motivate others through speech or care for them physically or mentally as long as there is a human contact component.
---
The Timeline of Your Transition
Moving forward, you will need to plot your Bazi Chart using this link. You only need to concentrate on your Month Pillar and the Animal Sign in your Bazi Chart. We work for 60–70% of our life to create wealth, and the Month Pillar stands for your career or business. You may determine the timing of your transition phase by referring to the four event triggers listed below.
Clash
Combination
Destruction
Grand Duke
The "Clash" ⚔️ (六冲)
The clash will begin for those with the Monkey sign in their Bazi chart in 2022. A clash year of attempting new things will be challenging and exhausting. In general, we don't like clashes in our chart because a breakthrough will require a lot of toil, blood, and sweat. People who resist change, though, could begin to face a downward cycle in their life. Additionally, when there is a clash in the year's month, it becomes more pronounced.
| Animal Signs | Clashes |
| --- | --- |
| Rat (Dec) | Horse (Jun) |
| Ox (Jan) | Goat (Jul) |
| Tiger (Feb) | Monkey (Aug) |
| Rabbit (Mar) | Rooster (Sep) |
| Dragon (Apr) | Dog (Oct) |
| Snake (May) | Pig (Nov) |
Animal Sign Clashes
The "Combination" 🤗 (三合 & 六合)
There are various ways to use animal signs to strengthen the connections between the day, month, and year. The trinity combination sometimes referred to as the "Three Harmony," comes first. These are trios of animals who are closest friends that encourage, make up for, and strengthen each other's personality strengths. It is because of their similarity, collaboration, and shared objectives that are simple. Therefore, joining forces with these friends for professional or social endeavors is an excellent idea. The table below shows that there are four groupings in total.
| Frames / Structures | 3 Harmony |
| --- | --- |
| Water | Rat, Dragon, Monkey |
| Metal | Ox, Snake, Rooster |
| Fire | Tiger, Horse, Dog |
| Wood | Rabbit, Goat, Pig |
The Three Harmony Combinations
The second combination, commonly known as the "Six Harmony," discusses hidden relationships between the animal signs. These are the combinations of two animal signs that reveal a concealed strength and combine to become one of the five types of energy.
| Animal Sign | 6 Harmony | Energy | Effect |
| --- | --- | --- | --- |
| Rat | Ox | Earth | Stability, Trust, Security |
| Tiger | Pig | Wood | Growth, Productivity |
| Rabbit | Dog | Fire | Elegance, Performance, Beauty |
| Dragon | Rooster | Metal | Power, Authority |
| Snake | Monkey | Water | Wisdom, Intelligence |
| Horse | Goat | Fire | Communication, Wealth |
The Six Harmony Combinations
The "Destruction" 🥵 (六破)
Destructions occur when two certain branches in the natal chart are beside one another or when it enters through the Luck or Annual pillar. The result is a sense of helplessness as you find yourself stuck in a situation with no other options. Additionally, it usually denotes a situation where they are unwilling to let go of a particular circumstance.
Destruction also signifies that everything must come to an end and that something new must begin. During this transition, many people become emotionally stuck. Therefore, it could result in adverse effects or bleak outcomes down the road. You can find the six possible formations below, which result in various life circumstances.
Animal Signs
Destruction
Effect
Rat
Rooster
Abusive, Health issues
Ox
Dragon
Unsettled, Unhappy
Tiger
Pig
Situational
(Good to bad/Bad to Good)
Rabbit
Horse
Ashamed, Judgemental
Snake
Monkey
Situational
(Good to bad/Bad to Good)
Goat
Dog
Stress, Depression
Animal Sign Destructions
The "Grand Duke" (太岁)
2022 is your year serving as The Grand Duke if you were born under the Tiger sign according to your Bazi Chart. It indicates that you will experience a period of heightened energy vibration and an urge or desire to act. For those who are proactive, this is fantastic for you if you want to go ahead and take matters into your own hands instead of waiting. However, if you play it safe this year, you may unintentionally hurt others or offend your superior if this energy flows freely. For more info about the 12 animal signs, refer to my earlier post.
| Animal Signs | Grand Duke (Annual) |
| --- | --- |
| Rat | 2020 |
| Ox | 2021 |
| Tiger | 2022 |
| Rabbit | 2023 |
| Dragon | 2024 |
| Snake | 2025 |
| Horse | 2026 |
| Goat | 2027 |
| Monkey | 2028 |
| Rooster | 2029 |
| Dog | 2030 |
| Pig | 2031 |
Grand Duke in Animal Signs
---
Utilizing Your Talents in Your Bazi Chart
In one of our earlier posts, we looked at some of the concepts and your talents behind the Ten Gods. Let's go through it once more in this post, again we are focusing on the Month Pillar in your Bazi Chart.
The top Heavenly Stem: It is what you are actively accomplishing in your work through a series of activities based on your job role. – "What do you do"
The bottom Hidden Stem: You must excel at what you do if you want to advance in your job. These are skill sets or talents that help you progress further. – "How you do it well"
Therefore, if you can grasp the idea, you can use the summary table below to your advantage in Period 9.
| 10 Gods | Skillsets |
| --- | --- |
| Direct Wealth (DW) | Flexible resource allocation |
| Indirect Wealth (IW) | Entrepreneurship and financial planning |
| Hurting Office (HO) | Influence and mass communication |
| Eating God (EG) | Develop solutions, be innovative, and strategic planning |
| Seven Killings (7K) | Leadership and problem-solving |
| Direct Officer (DO) | Discipline, systematization, and governance |
| Friend (F) | Networking, expansion, and leverage |
| Rob Wealth (RW) | Exchange of resources and benefits |
| Direct Resource (DR) | Analysis for swift decision making |
| Indirect Resource (IR) | Situational awareness |
Skillsets based on 10 Gods for Period 9
---
Concluding Remarks
Utilizing the previously mentioned three-step structure, you may look back on your past and map it out to look forward and understand where you are heading and what you need to execute. Additionally, you can find hidden job opportunities and prominent industries to work in by studying the megatrends of Period 9. As a result, once you realize the crucial skill sets for Period 9, you may use your Bazi Chart to find the abilities you can employ to accomplish your objectives.
Gaining awareness and clarity is crucial to eradicating the sense of being lost and ensuring that you know where you are heading. Therefore, the next step is to choose your goals and the path to achieving them. Finally, you got to create a plan of action and techniques you may use. I wish you well as you work to fulfill your life's goals. Good luck!
---
I would love your support if you could buy me a coffee! I'm accepting crypto coins as well!
Nano coin – near-zero transaction fees!
Ripple coin – one of the lowest transaction fees!
Donate To Address
Donate Via Wallets
Xrp
Nano
Donate Xrp to this address
Scan the QR code or copy the address below into your wallet to send some Xrp
Donate Nano to this address
Scan the QR code or copy the address below into your wallet to send some Nano
Donate Via Wallets
Select a wallet to accept donation in ETH, BNB, BUSD etc..
---

---
---